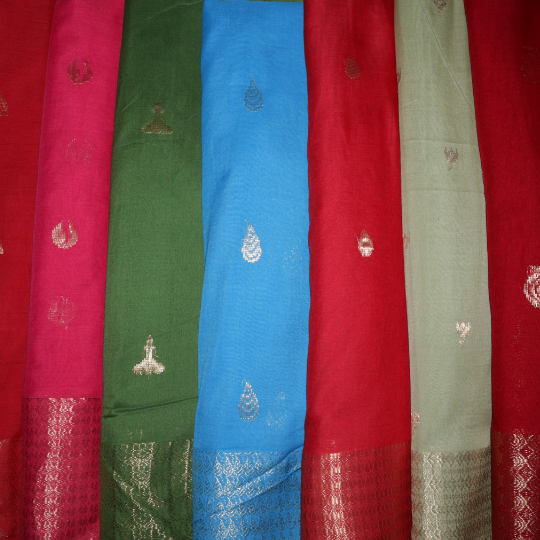 Kundalpuri Sarees
One of the rare features of Kundalpuri sarees is the vibrant cinematography of popular folk tales and legends, which the audience sees as the astonishing tale of the establishment of the grand Jinbimb of Lord Rishabhdev. Based on historical stories, ancient architecture and various historical elements a range of motifs were developed in Kundalpur.

Many of the motifs are inspired by Bracelet, Karnika, Chakra, Manimal and Mukut etc. These motifs are currently being used in Sarees both on borders and in body.

The sarees are made only from premium mercerised cotton and metallic zari. The picturesque annular ranges of Kundalpur Mountain, Sej flowers found in abundance on mountains and adorable images of the fruits of teak trees are also reflected in these sarees.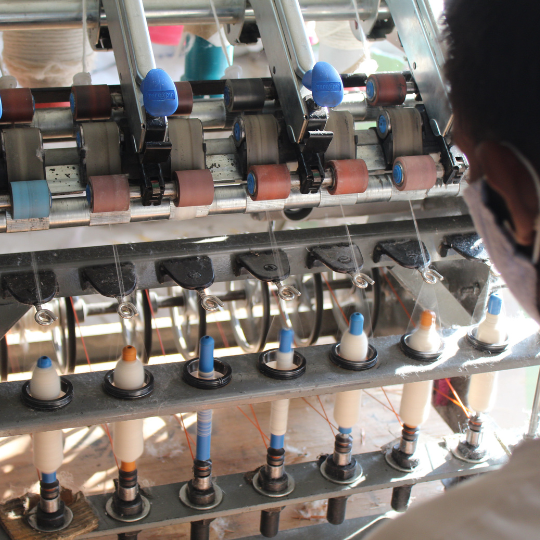 Spinning
The spinning of Khadi yarn is the initial stage of making Khadi products. Khadi clothes can be worn in any weather. It's warm in the winters and cool in the summers. It is a body-friendly fabric that does not cause any allergies or irritations, unlike other synthetic fabrics.

Making of Khadi is eco-friendly, as it does not rely on any electric unit and manufacturing processes and thus has a low carbon footprint. In this process the strands of cotton fibres are twisted together to form yarn, in which drafting, twisting and winding of the yarn are all completed in one operation.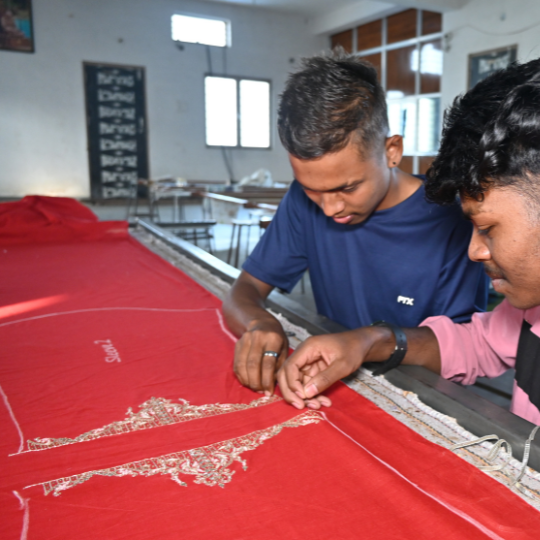 Zardozi
Zardozi is one of the finest techniques of heavy and elaborate metal embroidery on a fabric base which is often used to add a royal touch. In this art, metallic coated thread is used to make beautiful, intricate designs on cloth.

To make these elaborate designs, the thread is held with a finger at the reverse of the fabric and the aari, a needle with a sharp point, is held on the top. It is used as decoration for a wide range of applications, including clothes and household textiles.

Today, this exquisite style of embroidery is popularly used in bridal trousseaus. Initially, the embroidery was done with pure silver wires and real gold leaves. However, today, craftsmen make use of a combination of copper wire, with a golden or silver polish.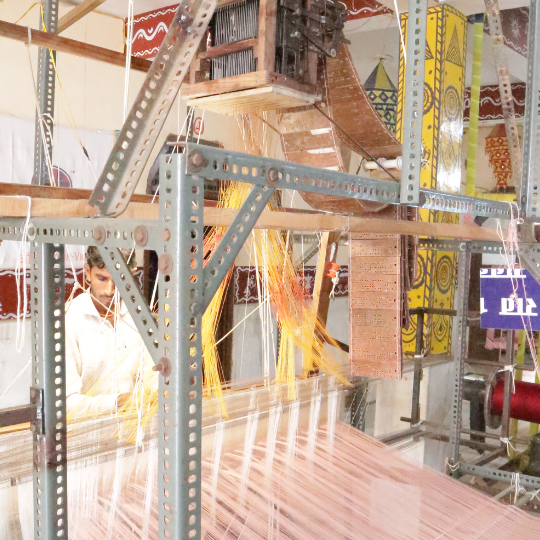 Jacquard
The Jacquard is a device fitted to a loom for the process of weaving sarees with such complex patterns as brocade, damask and matelassé. The resulting ensemble of the loom and Jacquard is then called a Jacquard loom.

Jacquard loom saree is filled with decorative aesthetics and has a smooth texture, as the pattern is not embroidered over it but woven directly within the saree. Firstly a pattern is designed which is controlled by a chain of punched cards laced together into a continuous sequence and depending on the weaving technique employed, Jacquard sarees need to go through the final process of cutting tiny threads left on its reverse.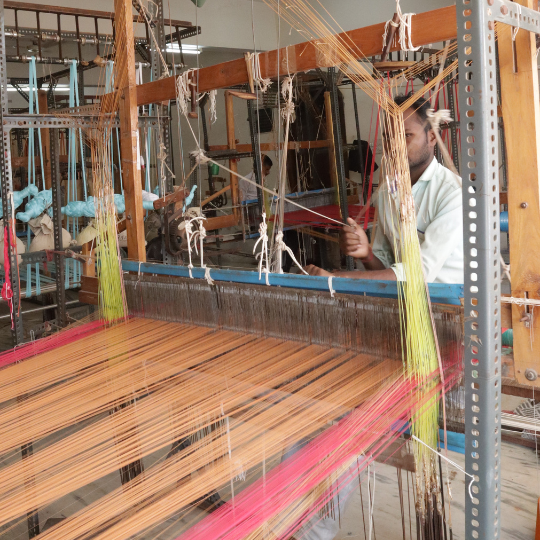 Dobby
Dobby is a shedding device placed on the top of loom in order to increase the designing capacity. It allows figuring of extra warp small geometric design patterns to actually be woven into the fabric. This is similar to jacquard, as this uses an attachment for the loom to create these designs. It is more tedious and time consuming than Plain weaving. It mainly consists of one grooved roller, number of levers and a chain of lattices. For every different design there will be a different pegging.

The designs created on a Dobby loom are much less complex than a Jacquard pattern. Dobby is suitable for weaving designs in borders of Saree, Dhoti Dupatta and other light weight textures.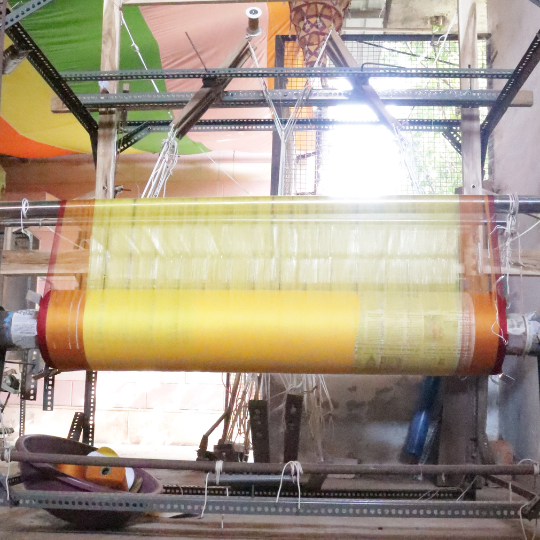 Multi Shaft
A fabric weave refers to the way the warp and weft yarns are interlaced in a fabric. In the most basic of fabric weaving, the threads go criss-cross in the simplest of pattern, at right angles to each other. But in others, they are woven in so many interesting patterns - artistically, decoratively. The loom has two pedals, below the feet of the weaver.

In order to produce different weaves, the loom requires at least 4 pedals with each pedal raising different harnesses or warp threads. Instead of alternating between two pedals, a different combination of repeating pattern of the pedals, drafting and warp thread is raised. They are combined with each other to form different woven patterns. The resulting designs vary from Basket weave, Twill, Waffle, Honeycomb, Zigzag to diamond shapes etc.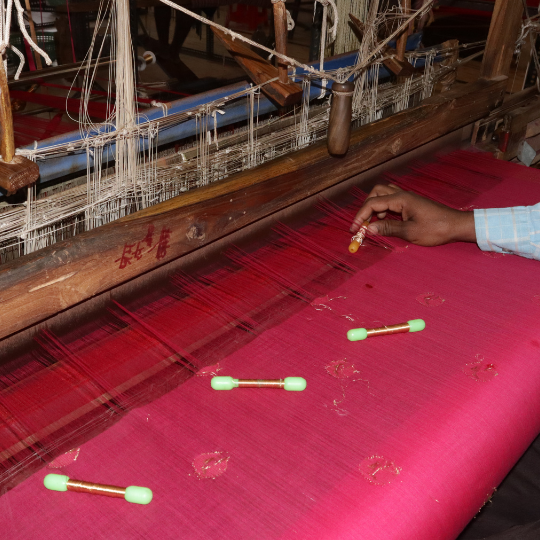 Buti
A variety of designs can be embossed on the texture of the fabric using buti designs. In a buti structure one weft yarn is used to weave a ground cloth and an additional weft is inserted at intervals to create a decorative pattern on the surface on the cloth.

According to design, with the help of knotted rings cords will be grouped and operated by hand with the help of wooden hooks. One pick of extra weft and one pick for plain binding will be inserted alternately. Extra weft will interlace only design area. Decorative effects can also be attained through only a single cord or cut shuttle etc. Buti structures can be used in many different ways to create a vast range of clothes.